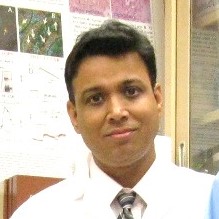 Department
Biomedical Engineering
School
School of Engineering
Expertise
Tissue Engineering
Calcium Biomineralization
Biomedical Device Development
Calcium Crystals and Calcification
Bio
Dr. Bandyopadhyay has expertise on tissue remodeling in 3-D microfluidic devices and functional characterization of artificial biological microenvironments.  Major focus of his laboratory at the DC VA Medical Center is to understand the mechanism of calcification and calcium biomineralization in tissues and organ systems using genetic, pharmacological, and tissue engineering approaches. Presently, multiple NIH funded projects are underway in his Lab: 1. Kidney stone disease and calcifications: Mechanism of calcium crystal/stone formation in kidney and salivary gland. 2. Vascular calcification and disease progression: we are investigating how the introduction of environmental contaminants can affect the calcium crystal forming process within the nephron. We are creating tissue microenvironments with in the 3-D microfluidic devices as an in vitro model to simulate the stone forming processes to study the mechanism of calcium stone formation.
Representative Publications
Yiu AJ, Ibeh CL, Roy SK, Bandyopadhyay BC. Melamine induces Ca2+-sensing receptor activation and elicits apoptosis in proximal tubular cells. Am J Physiol Cell Physiol. 2017 Jul 1;313(1):C27-C41. doi: 10.1152/ajpcell.00225.2016. Epub 2017 Apr 5. PMID: 28381520
Phan TX, Jaruga B, Pingle SC, Bandyopadhyay BC, Ahern GP. Intrinsic Photosensitivity Enhances Motility of T Lymphocytes. Nature Sci Rep. 2016 Dec 20;6:39479. doi: 10.1038/srep39479. PMID: 27995987
Wei Z, Amponsah PK, Al-Shatti M, Nie Z, Bandyopadhyay BC. Engineering of polarized tubular structures in a microfluidic device to study calcium phosphate stone formation. Lab Chip. 2012 Oct 21;12(20):4037-40. PMID: 22960772
Bandyopadhyay BC, Swaim WD, Sarkar A, Liu X, Ambudkar IS. Extracellular Ca(2+) sensing in salivary ductal cells. J Biol Chem. 2012 Aug 31;287(36):30305-16. doi: 10.1074/jbc.M112.394122. Epub 2012 Jul 9. PMID: 22778254
Bandyopadhyay BC, Pingle SC, Ahern GP. Store-operated Ca²+ signaling in dendritic cells occurs independently of STIM1. J Leukoc Biol. 2011 Jan;89(1):57-62. doi: 10.1189/jlb.0610381. Epub 2010 Oct 22. PMID: 20971921
Tran SD, Wang J, Bandyopadhyay BC, Redman RS, Dutra A, Pak E, Swaim WD, Gerstenhaber JA, Bryant JM, Zheng C, Goldsmith CM, Kok MR, Wellner RB, Baum BJ. Primary culture of polarized human salivary epithelial cells for use in developing an artificial salivary gland. Tissue Eng. 2005 Jan-Feb;11(1-2):172-81.