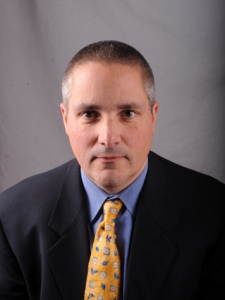 Department
Mechanical Engineering
School
School of Engineering
Expertise
Fluid Mechanics
Heat Transfer
Bio
Steve Brown's research interests include refrigeration and air conditioning, alternative refrigeration cycles, alternative refrigerants, organic Rankine cycles, alternative energy, thermodynamic modeling, two phase heat transfer, human thermal comfort modeling, and bio heat transfer. He is the recipient of the 2001 Ralph Teetor Educational Award from the Society of Automotive Engineers, was named a DuPont Young Professor Award recipient for the period 2001-2004, received the 2010 ASHRAE Journal Best Paper Award, was awarded the Provost Award for Overall Teaching in 2011, was elected an ASHRAE Fellow in 2013, received the International Journal of Refrigeration Best Paper Award for ones published in 2013/2014, and was honored the ASHRAE Distinguished Service Award in 2015. He serves as an ABET evaluator, is an Associate Editor of Science and Technology for the Built Environment (formerly known as HVAC&R Research), and is active in ASEE, ASME, IIR, and ASHRAE, where he is a member of two technical committees. He is a registered professional engineer in the State of Maryland.
Representative Publications
Lago, S., Giuliano Albo, P.A., Brown, J.S., 2016. Compressed liquid speed of sound measurements of cis-1,3,3,3-tetrafluoroprop-1-ene (R1234ze(Z)). International Journal of Refrigeration 65, 55-59.
Brown, J.S., Brignoli, R., Quine, T., 2015. Parametric investigation of working fluids for organic Rankine cycle applications. Applied Thermal Engineering 90, 64-74.
Brown, J.S., Brignoli, R., Daubman, S., 2014. Methodology for estimating thermodynamic parameters and performance of working fluids for organic Rankine cycles. Energy 73, 818-828.
Publications
Pope Benedict XVI, A Reason Open to God

Pope Benedict XVI, A Reason Open to God, edited by J. Steven Brown (Washington, DC: Catholic University of America Press, 2013).

Learn More