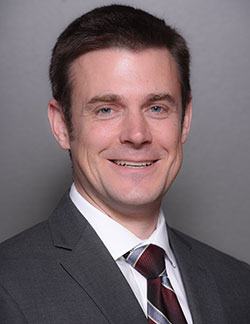 Department
Mechanical Engineering
School
School of Engineering
Expertise
Dynamics
Vibration
Bio
John Judge's research interests are in the area of vibration and dynamics of complex structures, including vibration localization in near-periodic structures, resonant micro- and nano-mechanical systems (MEMS/NEMS), nonlinear dynamics, laser vibrometry and experimental characterization of systems using vibration and acoustics, and seismic/acoustic detection of landmines and improvised explosives. Prior to joining Catholic University, he held a National Academy of Sciences Research Associateship at the Naval Research Laboratory in Washington, D.C.
Representative Publications
J. Vignola, A. Glean, J. Judge, and T. Ryan, "Optimal apparent damping as a function of the bandwidth of an array of vibration absorbers," Journal of the Acoustical Society of America, 134(2): 1067-1070 (2013).
C.Q. Judge and J.A. Judge, "Measurement of hydrodynamic coefficients on a planing hull using forced roll oscillations," Journal of Ship Research, 57(2): 75-83 (2013).
T. Ryan, P. O'Malley, A. Glean, J. Vignola, and J. Judge, "Conformal scanning laser Doppler vibrometer measurement of tenor steelpan response to impulse excitation," Journal of the Acoustical Society of America, 132(5): 3494-3501 (2012).