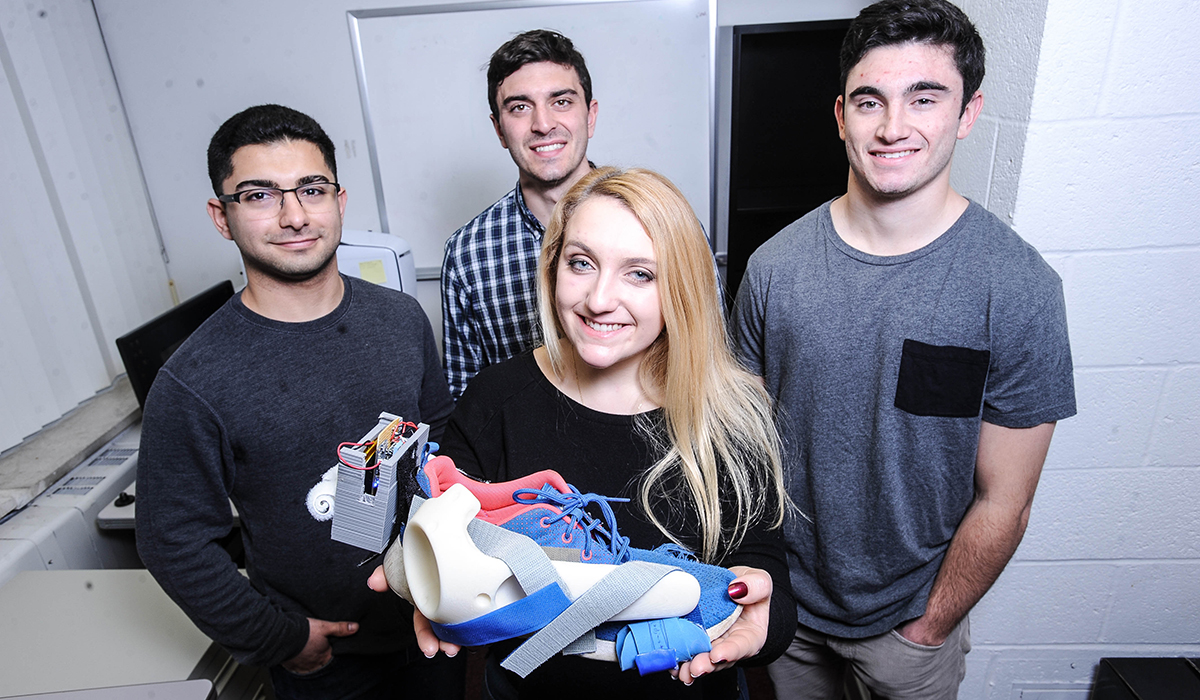 Biomedical engineering is a discipline that advances knowledge in engineering, biology and medicine, and improves human health through cross-disciplinary activities that integrate the engineering sciences with biomedical sciences and clinical practice.  We offer the regular track and the pre-med track to our students. 
A career in Biomedical Engineering
Biomedical engineering (BME) applies the science of engineering to the art of medicine in order to improve health and function, of individual patients and everyone in society. Technological and computational advances are transforming the field just like other engineering disciplines. Biomedical engineering jobs are growing at twice the rate of other engineering disciplines, with a median starting salary exceeding $97,000.
Medical solutions and therapies that were only dreamed of decades ago are now being developed in companies around the world--and at the Catholic University of America. Examples include smart robotic prosthetics, 3-D printed engineered tissues and biofabricated organ patches for implantation and disease modeling, molecular biosensors on biofabricated chips, polarization-sensitive holographic microscopy, treatments for kidney stones, and neurally-controlled adaptive exoskeletons. If you want to get in at the ground level of any of this research, you can do that! Just join the Catholic University undergraduate and graduate degree programs in Biomedical Engineering. 
Besides engaging in exciting research and development in and out of the classroom that makes a difference in people's lives, students choose biomedical engineering to be of service to people; for the excitement of working with living systems; and to apply advanced technology to complex problems of medical care. The biomedical engineer is part of a multi-disciplinary heath care team, a group which includes physicians, nurses, and technicians. Biomedical engineers may be called upon to design instruments and devices, to bring together knowledge from many sources to develope new procedures, or to carry out research to acquire knowledge needed to solve new problems. Many biomedical engineers work in hospitals, in the field for medical device companies, or in government labs and offices. Others go on to medical school!
Examples of work by biomedical engineers
Design and development of cardiac pacemakers, defibrillators, artificial kidneys, blood oxygenators, hearts, blood vessels, joints, arms, and legs.
Design computer and information systems to monitor patients.
Design instruments and devices for therapeutic uses.
Development of strategies for clinical decision making based on expert systems and artificial intelligence.
Design, development and research in the area of medical imaging systems such as computer assisted tomography (CT), position emission tomography (PET), magnetic resonance imaging (MRI), ultrasound, or newer modalities.
Development of mathematical/computer models and artificial intelligence products to improve healthcare.
Design and development of advanced biomaterials.
Research in the areas of biomechanics, sports mechanics and optimization of human performance.
Hear more from students and faculty
Read the newsletters below, and contact us.