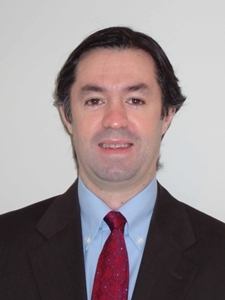 Department
Mechanical Engineering
School
School of Engineering
Expertise
Composite Materials
Structural Health Monitoring
Carbon Nanotube Fibers
Bio
Prof. Abot teaches courses to many of the engineering students at Catholic University. His research group is engaged on projects about mechanics, materials engineering, fabrication, electrical/mechanical/thermal characterization of composite materials and structural health monitoring and sensing using carbon nanotube fibers. These research projects have received funding from NASA, the Department of State and AFOSR. Prof. Abot is also a collaborator on several research projects with colleagues in the USA, Brazil, Mexico and Denmark. Prof. Abot has published more than 120 technical papers and is the Associate Editor of the Journal of Carbon Research and a guest editor in Sensors and other journals, a member of the editorial boards of Sensors, Journal of Composites Science, Journal of Carbon Research, and Functional Composites and Structures, and a member of the advisory board of Sci. Prof. Abot also serves the Department of Mechanical Engineering, the Materials Science and Engineering Program, and the School of Engineering in several academic areas including mentoring, recruitment, accreditation and international programs.
Selected Publications
Anike, J. C., Belay, K. and Abot, J. L. Effect of twist on the electromechanical properties of carbon nanotube yarns. Carbon 142: 491-503 (2019).
Abot, J. L., Góngora-Rubio, M. R., Anike, J. C., Kiyono, C. Y., Mello, L. A. M., Cardoso, V. F., Rosa, R. L. S., Kuebler, D. A., Brodeur, G. E., Alotaibi, A. H., Coene, M. P., Coene, L. M., Jean, E., Santiago, R. C., Oliveira, F. H. A., Rangel, R. C., Thomas, G. P., Belay, K., da Silva, L. W., Moura, R. T., Seabra, A. C. and Silva, E. C. N. Foil strain gauges sensing using piezoresistive carbon nanotube yarn: Fabrication and calibration. Sensors Special Issue: Integrated Structural Health Monitoring in Polymeric Composites 18, 464 (2018).
Anike, J. C., Belay, K. and Abot, J. L. Piezoresistive response of carbon nanotube yarns under tension: Parametric effects and phenomenology. New Carbon Materials 33, 6 (2018).
Anike, J. C., Le, H. H., Brodeur, G. E., Kadavan, M. M. and Abot, J. L. Piezoresistive response of integrated carbon nanotube yarns under compression and tension: the effect of lateral constraint. Carbon Res. 3, 14 (2017).
Anike, J. C., Bajar, A. and Abot, J. L. Time-dependent effects on the coupled mechanical-electrical response of carbon nanotube yarns under tensile loading. J. Carbon Res. 2(1), 3 (2016).