CEE Grad Student wins Martha Hahn memorial recognition
Congrats to Nam Ngo for receiving the Martha Hahn memorial recognition for the highest-rated abstract at the WEFTEC conference. Nam presented an abstract entitled "Improving Clarifier Performance and Capacity through Full-scale Implementation of High-rate Contact Stabilization." Congrats to Nam and Dr. Massoudieh for this great accomplishment! 
CEE Student wins AISC Scholarship
Congrats to Vincente Johnson for receiving the 
American Institute of Steel Construction (AISC) Education Foundation Scholarship
(link: 
https://www.aisc.org/education/university-programs/aisc-scholarships/#39913
)
Vincente's Bio:

I am a fourth-year student enrolled in the B.S. Arch, B.C.E. dual degree program, also pursuing a minor in Sustainability. Along with my academic focus, I am also a student assistant for the CUA Men's Basketball team, a Lab Tech for the woodshop in the School of Architecture, and a co-president of the AIAS chapter at CUA. Professionally, I am interested in pursuing a career in both the architecture and structural engineering fields and would like to become a licensed architect and structural engineer. Through my experiences, I am confident that I can achieve excellence in the architecture and civil engineering fields and am excited to make a positive impact on the lives of others.
Congrats Vincente!
CEE Student wins AGC Scholarship
Congrats to Julia Schlottmann for receiving the Associated General Contractors of America AGC Education and Research Foundation Scholarship.
Julia is a junior dual-degree architecture and civil engineering student who is very involved on campus. She is the President of the Society of Women Engineers and a member of the Women's Rugby Team, ASCE, AIAS, Habitat for Humanity, Tau Beta Pi, the University Honors Program, Phi Eta Sigma, and more. She has also had multiple internships related to the construction industry throughout her time at Catholic University. Julia looks forward to seeing where her experiences and involvement lead her after graduation in the Spring of 2022, but hopes to always use her knowledge to engineer a sustainable future for our world.
 
Congrats Julia!
Construction Engineering Guest Presentations and Tours Continue Virtually Amid Pandemic
The pandemic hasn't stopped CEE faculty, Dr. Gunnar Lucko, from finding a way to let students experience construction site tours and guest speaker presentations. Thank you to Davis Construction and Bozzuto Construction who gave fantastic guest lectures and excellent virtual site visits!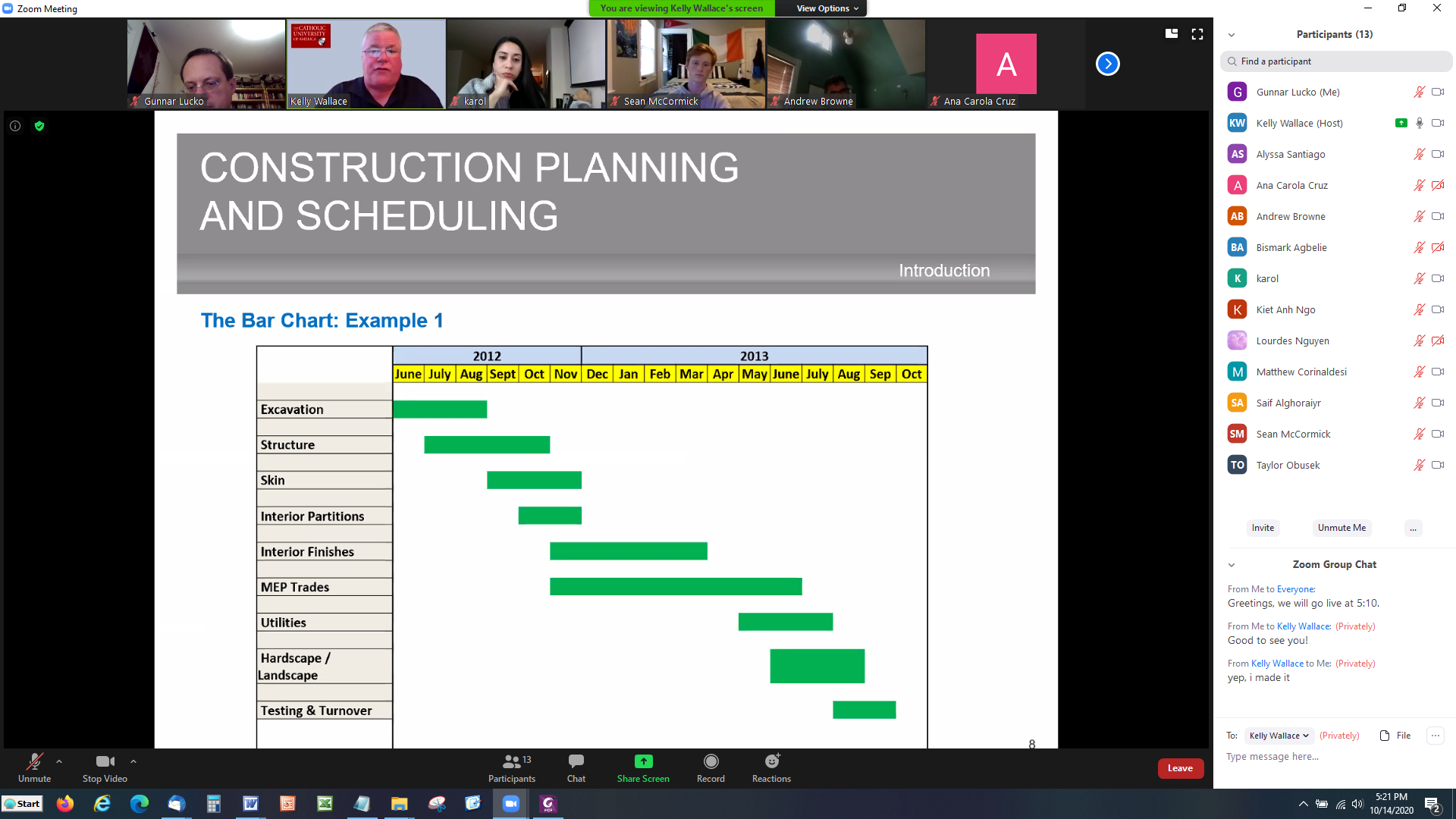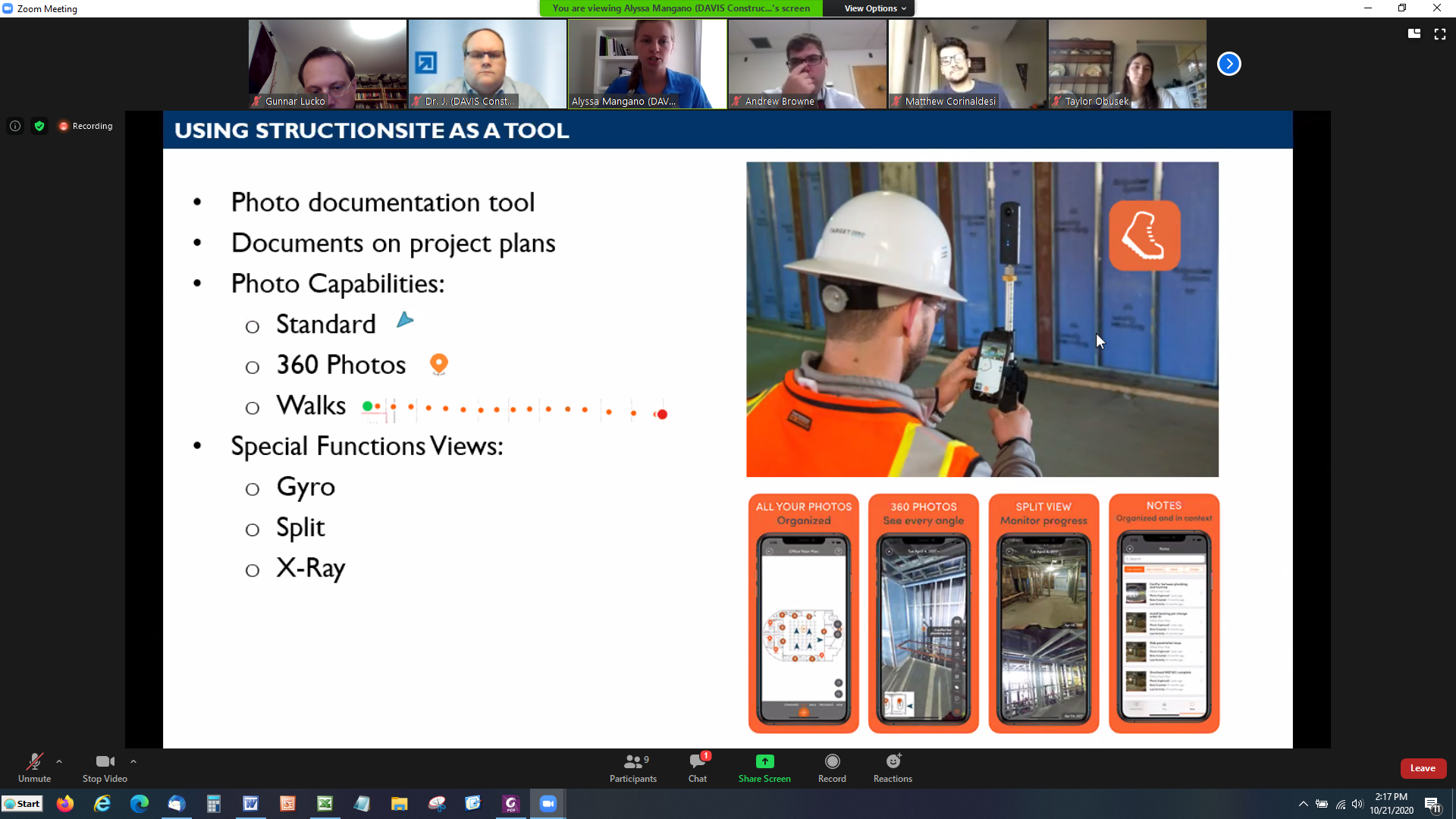 CEE students participate in virtual talks and construction site tours (courtesy of Dr. Gunnar Lucko). 
CEE Faculty Participates in Virtual Reconnaissance of Hurricane Laura
Hurricane Laura made landfall as a strong Category 4 storm near Cameron, LA, on August 27, 2020, causing significant damage to commercial construction from low-rise retail to high-rise buildings, casino resorts, and hotels.  As a member of the NSF-funded Structural Extreme Events Reconnaissance (StEER) network, Dr. Laura Micheli (CEE Department) participated in virtual reconnaissance operations of Hurricane Laura, collecting post-disaster field data to document the performance of civil structures after this unprecedented natural disaster. Full reconnaissance report available at https://www.designsafe-ci.org/data/browser/public/designsafe.storage.published/PRJ-2888/#details-4117964894633333226-242ac114-0001-012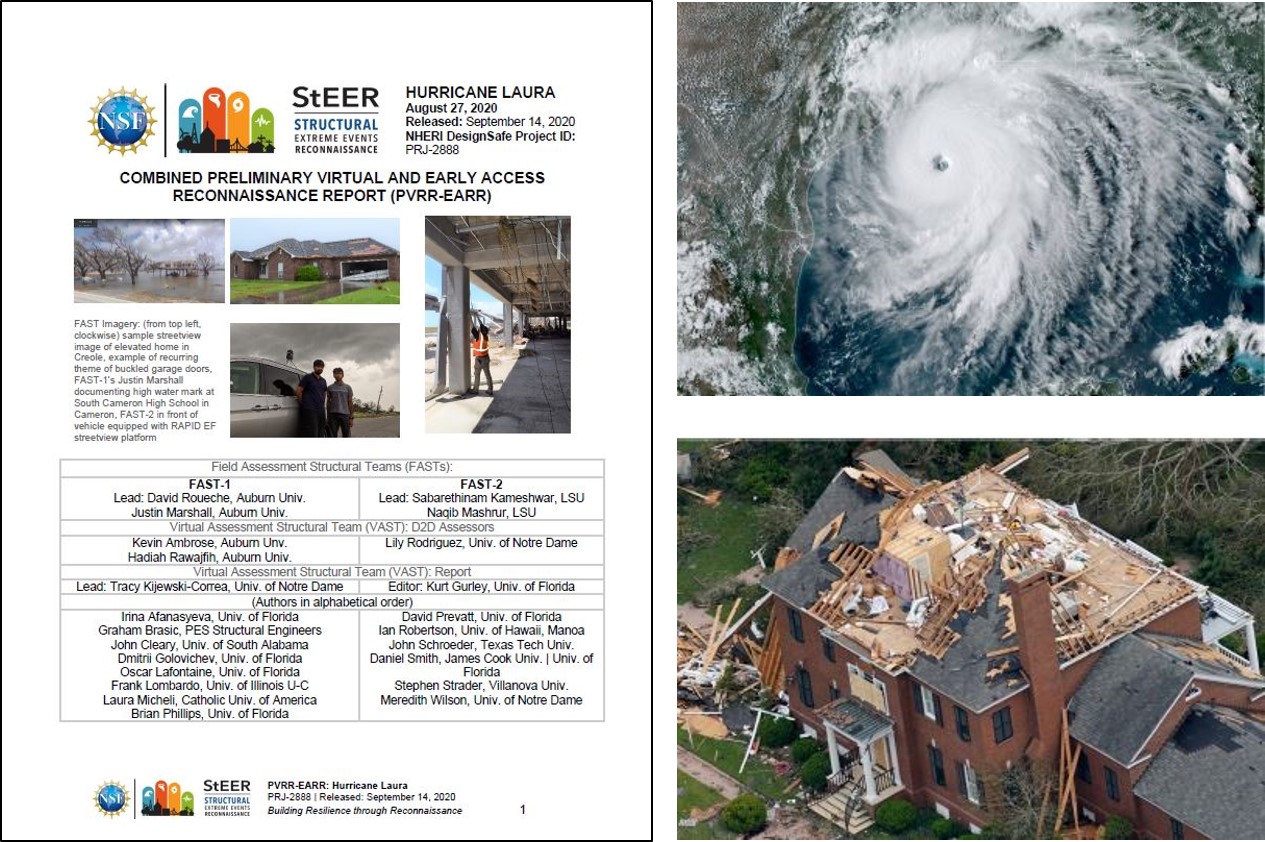 Two CEE Faculty win Burns Fellowship
Congrats to Dr. Laura Micheli and Dr. Jason Davison for being awarded the Burns Fellowship. With the fellowship support, Dr. Micheli (Structural Engineering) will develop a project named "Vibration-based Structural Health Monitoring of a Historic Bell-Tower in Washington DC", while Dr. Davison (Environmental Engineering) will work on a project entitled "Measuring Microplastic Concentrations in the Anacostia Watershed". Dr. Micheli and Dr. Davison thank the Burns' family for their generous support.
CEE Student wins Hennessey Scholarship
Congrats to Grace Pooley for being awarded the Hennessey Scholarship. Under the supervision of Dr. Davison (Environmental Engineering), Grace will work on a project named Solving Microplastics in the Anacostia River: Utilizing Modeling Methods and Education to Clean Up Urban Watersheds. Congrats, Grace and Jason!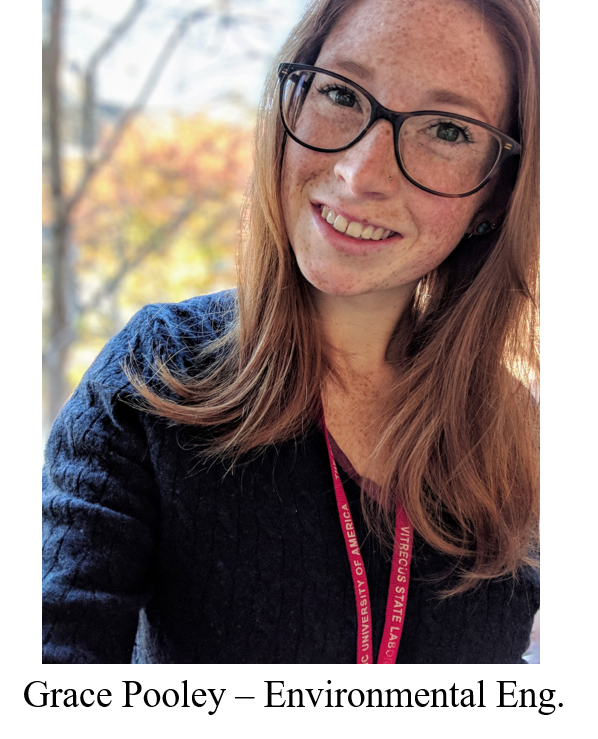 CEE Students win Corasaniti Endowed Scholarship
Congrats to Armelle Malcomb and Huu Huynh for being awarded The Joseph Corasaniti Endowed Scholarship. Under the supervision of Dr. Lucko (Construction Engineering), Huu will work on Game Theory Applications in Construction Project Management, while Armelle will apply PCA models and Statistical Universal Law for Predicting Project Activity Durations and Analyzing Delays for Construction Network Schedule Resilience. Kudos to Dr. Lucko and his students!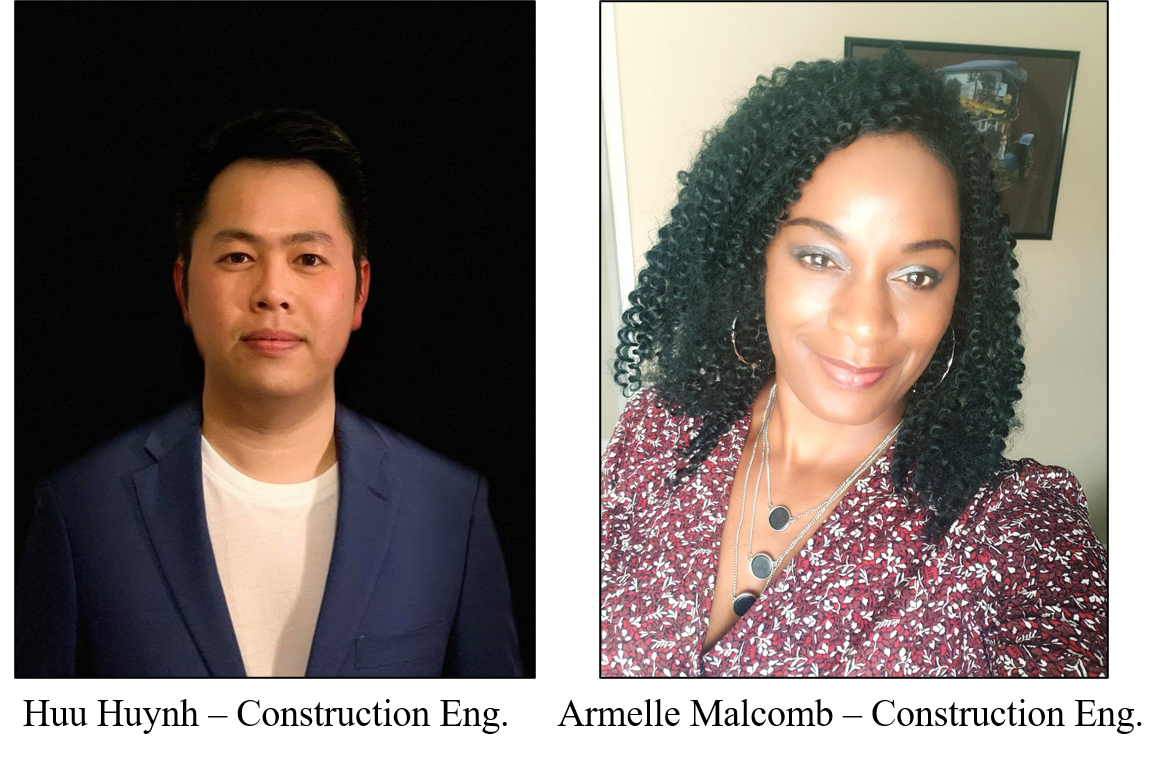 Dr. Chanseok Jeong wins NSF Award
Dr. Chanseok Jeong has been awarded an NSF grant (award no: CMMI-1855406) "Full-Waveform Inversion of Seismic Input Motions in a Truncated Domain" as a sole PI starting from April 2019 for 2 years in the amount of $127,499. Please see the below link for detail:
https://www.nsf.gov/awardsearch/showAward?AWD_ID=1855406&HistoricalAwards=false
Spring BBQ
The Civil and Environmental Engineering Department is hosting its Spring BBQ on April 25th 4:00 to 6:00 pm in the McCarthy Building (located directly behind Pangborn). The event is held in recognition of Whiting-Turner and their construction projects across campus. We will host our 2019 Steel Bridge Team, ASCE Concrete Canoe Team, and CEE Students. Please make it out for catered pulled pork BBQ and drinks. 

To signup please go here.
Catholic Students win ASCE Awards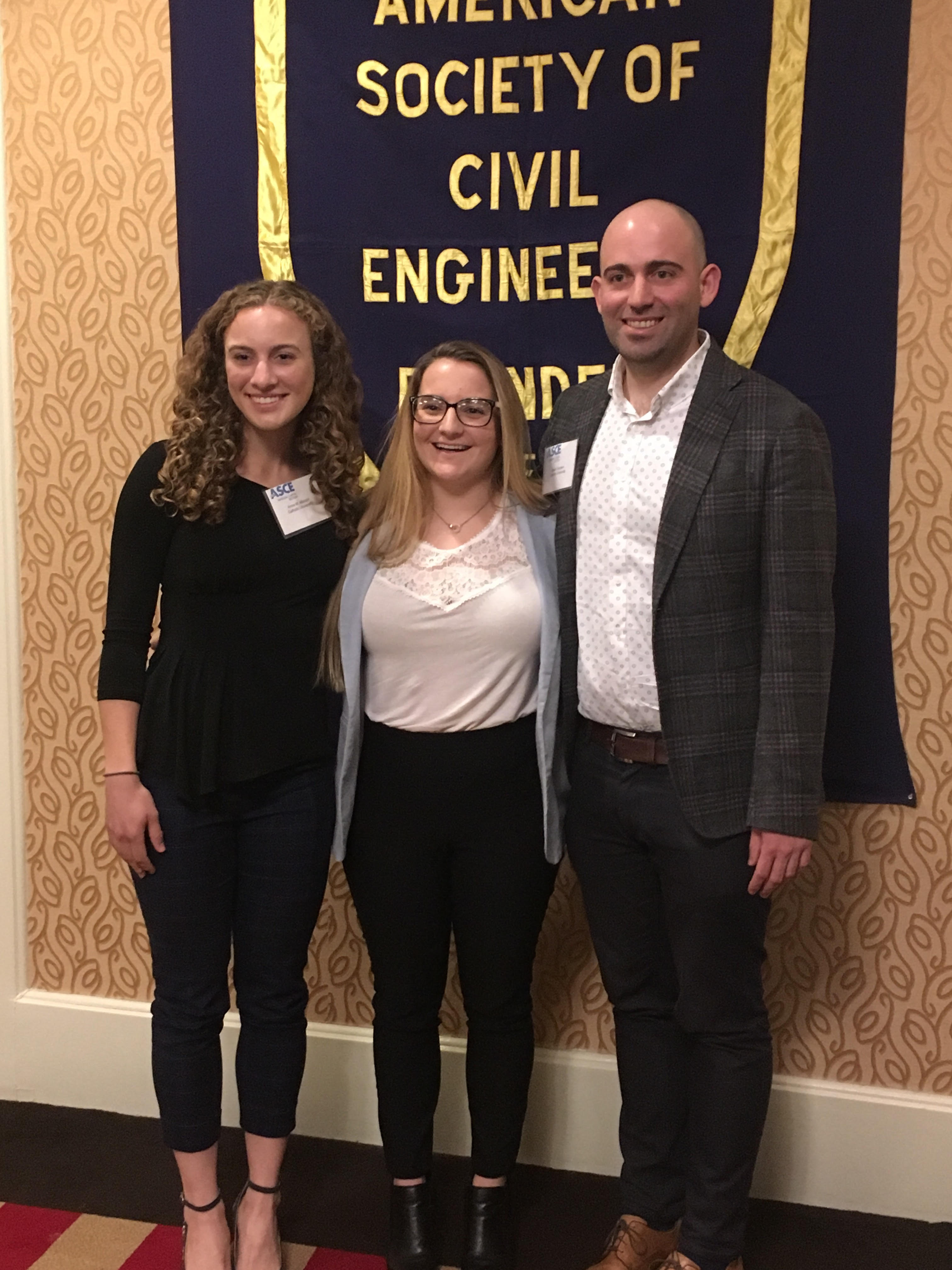 Congrats MaryKate Selgrath (center) and Anna Maupin (left) for winning the Outstanding Graduating Senior and NCS Student Scholarship Awards. Dr. Davison (right), Catholic ASCE faculty advisor, presented their awards on March 19th. The Civil and Environmental Engineering Department is extremely proud of these two students!