Electrical Engineering and Computer Science
Dr. Lawrence C. Schuette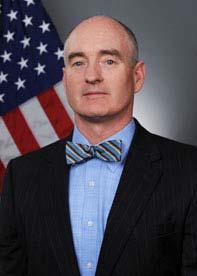 Dr. Lawrence C. Schuette assumed responsibility as the Director of Global Science and Technology Engagement on September 11, 2017. In this position, Dr. Schuette is responsible for creating and utilizing a global network of technical relationships to enhance Lockheed Martin's engagement in the worldwide science and technology ecosystem, transition advanced technology into the corporation, and accelerate customer technology adoption to create new and disruptive mission capabilities.
Dr. Schuette joined Lockheed Martin after 33 years of Federal Service in the Department of Defense and Health and Human Services, the last ten as a member of the Senior Executive Service. Most recently, he was the Director of Research (DOR) at the Office of Naval Research (ONR) where he led the Discovery and Invention portfolio for the U.S. Navy and U.S. Marine Corps. In this capacity, he led a $1B/year investment portfolio of basic and applied research and sponsored research in academia, government and industry labs in the U.S. and across the globe. He also served as the Science, Technology, Engineering and Math (STEM) Director for the Department of the Navy, providing leadership and management of the department's STEM investment. Prior to this role, he was the Director of Innovation at ONR where he successfully delivered high-payoff game-changing technology for the warfighter through management of the Navy's high-risk science and technology portfolio. 
He earned a bachelor's degree, master's degree and a doctorate in Electrical Engineering from Catholic University of America and is a 2009 Seminar XXI Fellow from the MIT Center for International Studies.
His awards include the Secretary of Defense's award for Exceptional Civilian Service, the Department of the Navy Distinguished Civilian Service Award, the Department of the Navy Superior Civilian Service Award, the Department of the Navy Meritorious Civilian Service Award, the Naval Unit Commendation, the Naval Meritorious Unit Commendation and the American Red Cross Certificate of Extraordinary Personal Action.